Exporting can be daunting, costly, and time-consuming, leaving many business owners limited in terms of how much they can grow. Businesses can now take their operations to the next level with assistance from the Trade Accelerator Program (TAP).
The program, spearheaded by the LEDC, will serve as a one-stop-shop providing strategy, resources, coaching, and mentorship to help companies develop, scale, and activate a strategic Export Plan.
Companies in London and surrounding areas are invited to apply to this virtual program and will benefit from 7 half-day workshops along with 1-to-1 mentoring sessions upon completion. 
Key Dates
Day 1 - Strategic Planning – September 8
Day 2 - Support and Advisory Resources – September 9
Day 3 - Export Plan – Sales & Marketing Part 1 – September 16
Day 4 - Export Plan – International Finance – September 23
Day 5 - Export Plan – Building Capacity and Supply Chain Management – September 28
Day 6 - Export Plan – Legal and Tax Implications to Going Global – October 4
Day 7 - Export Plan – Sales and Marketing Part 2 – October 5
Export Plan Submission – October 19
Mentoring Sessions – November 4,5
"The TAP program provided our company with the venue and encouragement to step away from day to day operations and focus attention on talking through and documenting our plan. The mentors then provided valuable feedback to make it even better - and in some cases we began almost immediately to work with mentors on follow up activities. This program is a great help to encourage Canadian SME's to get out of the country. Program gave us tools to prepare & publish an export plan. Now we have a plan that we are extremely happy with & one that we can use to guide our team to success"

 

- Renix Inc
  TAP key stats from the over 1,400 graduates across Canada:
Graduates experienced a 19% export revenue growth after one year, and 34% average growth in their export revenue two years after completing the program

70% of graduates are actively exporting and 90% of graduates declared themselves better prepared to do business internationally

47% of graduates secured additional financing since completing the program, with an average of $1.1 million in additional financing received per company. 
Find out how you can benefit from this exciting opportunity here
Image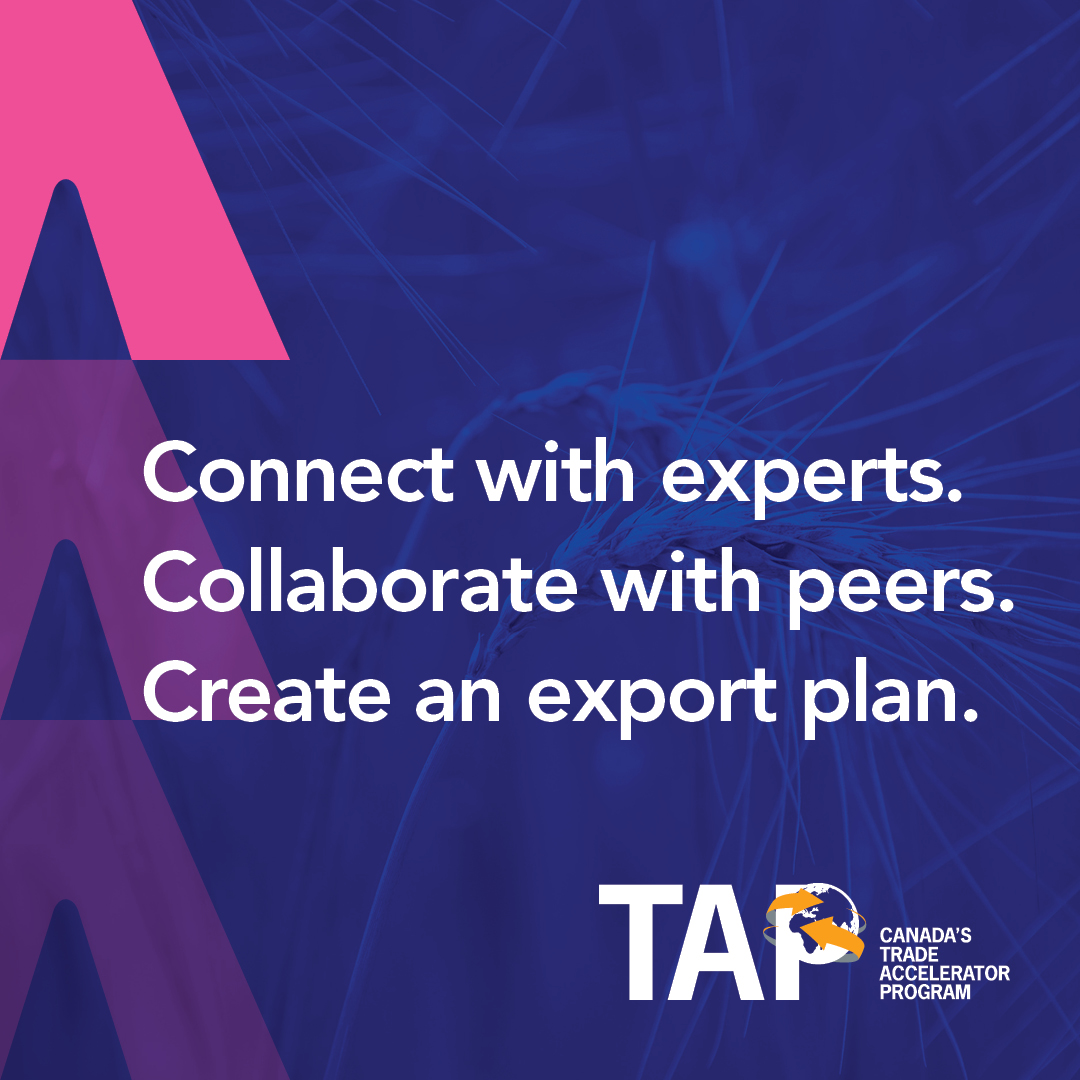 Eligibility Criteria
You are exporting a product, service or technology, but wish to diversify your export market or have taken exploratory  steps to develop your business abroad
You generate more than $500,000  in annual revenue
 You have been operating for at least 2 years
You have a strong value proposition
You are willing to dedicate 2 senior representatives to participate in all stages of the program