Dates
Kendall Milne Bancroft, Sr. Director of Network Product Management & Mobile 5G of Rogers Communications, explains what 5G will mean for your business and personal life today and in the future and why we need female leaders to care.
Do you want to be able to speak to your friends and family about what 5G is and how it is going to impact our lives in the future? 5G by definition is the next generation of wireless technology that is going to change the way people live and work in the future. Join this interactive session to learn more about Canada's 5G future with Rogers, what it can mean for your business, and how female leaders can help ensure we are looking at all the right use cases for this cutting edge technology as we move forward in the years to come.
Kendall has been working in telecom for over 12 years and thrives in the fast-paced and ever-changing market that is the communications industry. While working for Rogers in various roles over the past decade, she has developed a love for people management, creating high-performing teams and working in the business-to-business space, and has recently made a move into the network product management and infrastructure side of the business to help shape Rogers 5G future.
This is how I can help.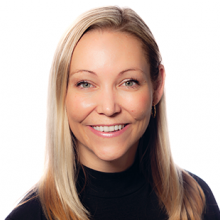 Ashley Conyngham
Director, Marketing and Communications
This is how i can help