With a 15-year background in disaster remediation and restoration, Chris Krasowski wanted to use his knowledge to help keep elderly and vulnerable populations with compromised immune systems safe. With this vision in mind, Chris moved to London with his wife and in October 2018 they launched All Clear Disinfecting, a company that specializes in high end disinfecting, outbreak prevention, decontamination, and odour removal services.  All Clear serves the residential, commercial, industrial, and mobile markets.
The company started primarily working with schools, retirement homes and hospitals to help ensure the facilities were providing a safe environment for residents and visitors. As Chris began to explore new technologies being developed and produced around the world, their prevention related services began to increase as they learned new, safer, and more environmentally friendly ways of keeping spaces contaminate free for longer. The new technologies combined with extensive knowledge of the infection control industry helped the company build a solid reputation in southwestern Ontario, attracting clients across sectors such as long-term care, warehouses, manufacturing facilities, and corporate office spaces.
Image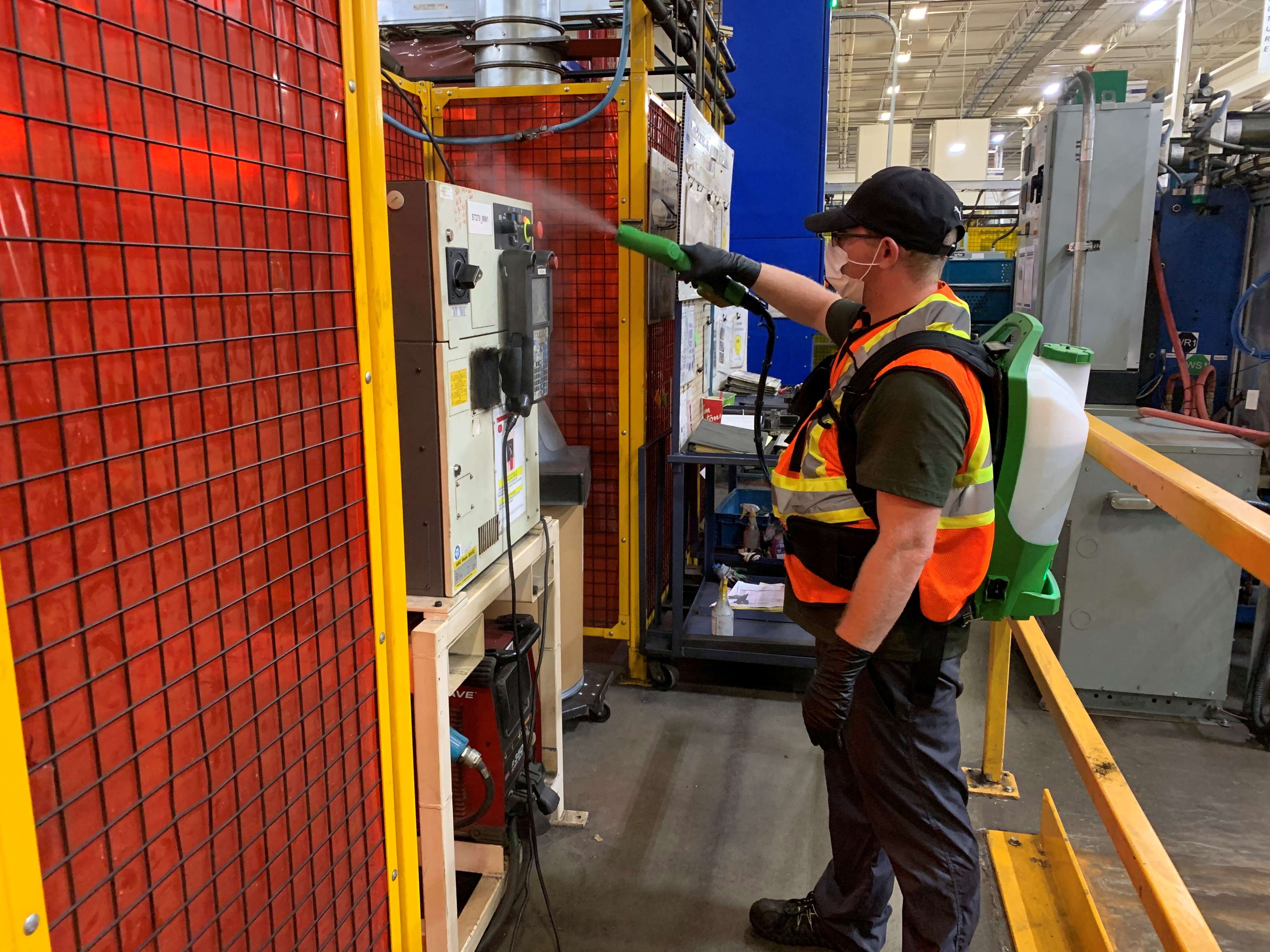 Since the COVID-19 pandemic began, business has skyrocketed, as it has across the board for many fogging, sanitization, and disinfection companies. All Clear Disinfecting has since hired four full time and three part time staff members to assist and keep up with increased demand, and they expect the trend to continue. They have received positive feedback from large clients including the LCBO and Honda of Canada Manufacturing Plant who have not reported any cases of outbreak since their facilities were disinfected.
Taking the Proactive Approach
While All Clear Disinfecting offers disinfection services for outbreaks, they spend a lot of time educating their clients on how to be proactive and providing services that keep workers safe year-round.
"Your employees are your biggest asset at your organization. We often recommend proactive, longer term measures to ensure there are no viral outbreaks to begin with," says Chris.
30 day and 365-day disinfectants are offered through All Clear Disinfecting as well as staff training on how to reapply the disinfectant on certain surfaces that often get missed. In the case of an outbreak, the company can arrive within as little as 24 hours to disinfect the area and perform testing to ensure the space is safe to return to.
All options eliminate viruses by 99.99% or greater and lower the risk of contamination. The proactive disinfectants can be applied while employees are in the office within reoccupation of the space within 15 minutes after treatment. Any space that is disinfected is also tested shortly after using swabs and visual testing to verify and measure the effectiveness of the cleaning process.
Chris does his part to stay ahead of the curve with new technologies and trends in the disinfecting industry by attending conferences, networking with industry peers, and reading various health publications. His company is also involved with the Coalition for Healthcare Acquired Infection Reduction (CHAIR) Canada and Infection Prevention and Control (IPAC) Canada to access the latest research around infection control.
Beyond disinfecting, how can your business take proactive measures to keep employees safe? Chris outlines some of the most common ways viruses spread and how to stop them:
Person to person contact: To keep the virus from spreading person to person, it

'

s important to encourage employees to wash hands frequently and use hand sanitizers between washing hands that should be available throughout your facility or office
Surface to person: This is where persistent disinfection sprays and treatments are most effective, and continually keep commonly touched surfaces throughout a building disinfected. Some spaces you may not have thought of sanitizing include paper towel dispensers and the backs of chairs
Airborne contamination: Enclosed indoor spaces are at high risk for airborne contamination like elevators and conference rooms, as opposed to outdoor spaces where nature has built-in virus defenses. Using masks and properly disposing of them afterwards is important to avoid catching an airborne virus, while keeping your indoor relative humidity at 50% can reduce the spread and buildup of viruses indoors. 
Some additional measures include temperature testing before employees enter the building, physical distancing, as well as plexi-glass protective barriers between close workstations. In a traditional office setting, employers can consider opting for vinyl chairs which can be easily disinfected over fabric chairs which can hold on to viruses.
As your businesses start to reopen and invite employees, customers, and visitors back, consider these tips as ways you can ensure their safety. To learn more about All Clear Disinfecting, please visit https://www.allcleardisinfecting.com/.