Dates
Are your recruitment efforts yielding less than stellar applicant quality and quantity? Perhaps you're using decades-old techniques to attract today's workforce through contemporary channels. Job posting platforms help facilitate the recruitment process but, if talent acquisition is done right, the application phase is the middle - not the beginning - of the journey.
Recruitment marketing is where you begin. It will help you better communicate your professional brand and communicate WIIFT – what's in it for them. In this session, Laurie will share the five W's (and one H) of recruitment marketing:
Why recruitment marketing?
Where to start
What is today's talent pool looking for?
Who to target
When to begin the process
How to position your business and the opportunity
Presented by Laurie Knechtel, eMotivate Marketing + Design
This is how I can help.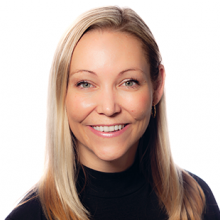 Ashley Conyngham
Director, Marketing and Communications
I can share your local business news & events
Promote your tech or manufacturing jobs
Collaborate with you on your industry event
Help your business reach new audiences
Provide communications support for your SME
This is how i can help