Dates
You've finished your project, now what? How do you get your film in front of an audience? Join us as we explore the emerging opportunities and fast-moving trends that are currently reshaping how films reach the public.
Moderator:
Kelly Payne, Film Development, Ontario Creates
Ontario Creates (formally OMDC) supports the province of Ontario's creative economy by providing innovative programs, services and funding for the film & television; book & magazine publishing; interactive digital media & music industries. As Program Consultant, Film and Television Ms. Payne brings over 20 years' of industry experience to the administration and development of programs and strategies which help to drive innovation and growth in Ontario's creative industries. Her portfolio includes the Film Fund, Industry Development and the Marketing and Distribution Initiative.
Panelists:
Paige Murray has worked at the CBC for over eight years within the content areas and is currently the Development Manager, Comedy and Drama for CBC English Television. As the key point of contact for comedy and drama submissions, Paige actively looks for new talent and projects and evaluates series pitches to fulfill CBC's programming needs. Paige is also the programmer for Canadian Reflections, the longest running Canadian short film showcase on national broadcast television. Paige currently sits as Vice Chair of the Breakthroughs Film Festival Board. Breakthroughs is the only festival in Canada devoted exclusively to showcasing short films made by emerging women, trans and non-binary directors.
Courtney McAllister is a passionate, dedicated and innovative writer/producer. In 2020, Courtney wrote Inn for Christmas, starring Jonna Walsh and Jesse Hutch, which will be available to watch this coming Christmas season. She is also currently working on a slate of MOW films that have been sold and are scheduled to shoot when production resumes in a post-Covid world. Over the past four years, she has helped both emerging and established filmmakers develop and package their scripts. Most recently, she has found and optioned a script that has since sold to Blumhouse and Amazon. Of the hundreds of screenplays she's read and provided notes for, she has proudly seen 15+ greenlit projects go to camera— selling well internationally afterwards. And though her background is in writing, in the spring/summer of 2018, Courtney produced the critically acclaimed documentary series Street Spirits for Bell Canada. While earning her Master's Degree in Media Production in 2016, Courtney managed the production on Night Owl, a web-series that premiered at SXSW Film Festival in March, 2018.
Carolyn McMaster is a Canadian film producer and president of CHAOS a film company which focusses on scripted content for the international marketplace. Her most recent production is the horror film Don't Say Its Name. Previous work includes the CIFF Audience Choice Award winner Root of the Problem with Sergio Di Zio and Claire Rankin, the sci-fi thriller Parallel Minds, starring Greg Bryk and Tommie Amber Pirie, the 2016 romantic comedy Chokeslam starring Chris Marquette and Amanda Crew with wrestling icon Mick Foley. In 2013 the thriller Ferocious, Amanda Crew and Kim Coates was released. Walk All Over Me starring Leelee Sobieski and Tricia Helfer premiered at the Toronto International Film Festival in 2008. McMaster is also an alumna of the Canadian Film Centre Comedy Lab and the NSI, she is a member of the Producers Guild of America, CMPA, Academy of Canadian Cinema & Television and is a recipient of an EMMY award.
This is how I can help.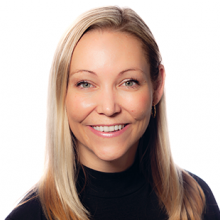 Ashley Conyngham
Director, Marketing and Communications
This is how i can help