Dates
Join our expert panelists as they discuss strategies for giving your project the "leg up" it needs to succeed. We will be exploring important subjects such as: financing possibilities, choosing the right creative partners and identifying your audience.
Moderator:
Craig Thompson - President and Executive Producer, Ballinran Entertainment.
Craig has 25 years' experience in content creation, production and management, and more than a decade as a working journalist (CBC, CBC Radio (England), CTV). Specialties: Film and television production management, event management, financing, strategic and business consulting in the media industry. Founder, DocFest Stratford and No Boundaries. Author, acclaimed public speaker, and experienced educator, committed to inspiring the next generation of media professionals. Recent feature documentary credits: Game Changers (2017), The Truth is in the Stars (2017), Mostly Sunny (2016) Chaos on the Bridge (2014).
Panelists:
Sean Cisterna - is a multi award-winning director whose most recent film is From the Vine (2020), an international coproduction starring Emmy winner Joe Pantoliano. Cisterna directed the acclaimed cancer drama Kiss and Cry (2017), which topped the Canadian box office, and is currently streaming on Netflix worldwide. His 2015 feature Full Out, starring Jennifer Beals, is based on the true story of gymnast Ariana Berlin. The film was broadcast on NBC, now residing with Netflix Worldwide and Disney Europe. Cisterna was awarded a Canada 150 Citizenship Award by the Federal Government for his dedication to and community engagement in the arts.
Greg Jeffs - An NSI Features First alumni, has written and produced short films that have been broadcast, released theatrically and are available on iTunes. His short film, THE HUNT, was named the best short film of 2013 by RUE MORGUE MAGAZINE. His directorial debut, IT'S ALL IN YOUR HEAD premiered at the 2016 Horror Channel Fright Fest and continues to tour the worldwide festival circuit. Through his work with William F. White he helps new talent learn the industry procedures and develop a plan for their project that will help maximize the results.
Jeremy Lalonde - A longtime director.
This is how I can help.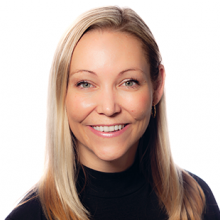 Ashley Conyngham
Director, Marketing and Communications
This is how i can help