Dates
Bring a coffee and enjoy a conversation with the professionals of your choice, each from a different corner of the filmmaking industry. These casual mentoring sessions are incredibly valuable to both emerging filmmakers and film fans alike. Don't miss your opportunity to engage with some of Canada's top industry professionals!
NOTE: This session is $20 and is not included with Industry Pass or 3 Event Pass. You will choose 4 experts to spend 15 minutes each with. Each expert will have a maximum of 4 guests at their "Virtual Table" in any of the time slots so everyone will have a chance to ask their questions AND you will learn from the questions of others, while doing a bit of networking.
This is an exclusive Zoom interaction with Industry Experts of your choice. You will receive a link to the Zoom call in October.
Expert Mentors:
Paige Murray - CBC- Development Manager, Comedy and Drama and Canadian Reflections Programmer.
Paige has worked at the CBC for over eight years within the content areas and is currently the Development Manager, Comedy and Drama for CBC English Television. As the key point of contact for comedy and drama submissions, Paige actively looks for new talent and projects and evaluates series pitches to fulfill CBC's programming needs. Paige is also the programmer for Canadian Reflections, the longest running Canadian short film showcase on national broadcast television. Paige currently sits as Vice Chair of the Breakthroughs Film Festival Board. Breakthroughs is the only festival in Canada devoted exclusively to showcasing short films made by emerging women, trans and non-binary directors.
Greg Jeffs - Client Service Coordinator William F White International.
An NSI Features First alumni, Jeffs has written and produced short films that have been broadcast, released theatrically and are available on iTunes. His short film, THE HUNT, was named the best short film of 2013 by RUE MORGUE MAGAZINE. His directorial debut, IT'S ALL IN YOUR HEAD premiered at the 2016 Horror Channel Fright Fest and continues to tour the worldwide festival circuit. Through his work with William F. White he helps new talent learn the industry procedures and develop a plan for their project that will help maximize the results.
Craig Thompson - Documentary Filmmaker and Executive Producer.
Craig has 25 years' experience in content creation, production and management, and more than a decade as a working journalist (CBC, CBC Radio (England), CTV). Specialties: Film and television production management, event management, financing, strategic and business consulting in the media industry. Founder, DocFest Stratford and No Boundaries. Author, acclaimed public speaker, and experienced educator, committed to inspiring the next generation of media professionals. Recent feature documentary credits: Game Changers (2017), The Truth is in the Stars (2017), Mostly Sunny (2016) Chaos on the Bridge (2014).
Kirk Cooper - Producer and Festival Strategist.
Kirk is the founder of Film Market Access, a film consulting and PR firm. Kirk's contribution to the international film community spans over 17 years with experience in the global arts and the entertainment industry. His strength lies in Film Programming, Communications, Professional Development, and Project Management for Film. Kirk has created film programming for festivals such as - Durham Region International Film Festival, Victoria Internation Film Festival, ReelWorld Film Festival, Inside Out (LGBT) Film Festival, Planet In Focus, Canadian Film Festival, River to River, Pan Africa Film Festival. Kirk is currently the Festival Manager for Raven Banner Entertainment - a genre distributor in Canada.
Kelly Payne - Film Development, Ontario Creates.
Ontario Creates (formally OMDC) supports the province of Ontario's creative economy by providing innovative programs, services and funding for the film & television; book & magazine publishing; interactive digital media & music industries. As Program Consultant, Film and Television Ms. Payne brings over 20 years' of industry experience to the administration and development of programs and strategies which help to drive innovation and growth in Ontario's creative industries. Her portfolio includes the Film Fund, Industry Development and the Marketing and Distribution Initiative.
Caroline Chopra Deputy Director – Portfolio Management, CMF Program Administrator │ Telefilm Canada Caroline Chopra has been with Telefilm Canada in Toronto since 2006, working with the Canada Media Fund (CMF) Program Administrator team. Over the last 14 years, she has held various positions within this team, and is currently Deputy Director – Portfolio Management responsible for English-language documentary programming. Prior to joining Telefilm Canada, Caroline worked at the Canadian Television Fund (now CMF), the Historica Foundation, the NFB and French-language educational broadcaster TFO.
This is how I can help.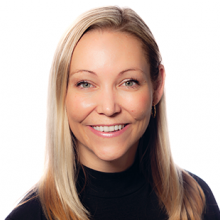 Ashley Conyngham
Director, Marketing and Communications
This is how i can help