Dates
Filmmaker Janice Zolf, writer and director of the new CBC documentary Into the Light, hosts a candid and revealing discussion with producer, writer and director Craig Thompson about the rapidly changing landscape for documentary filmmaking. Craig heads up Stratford-based Ballinran Entertainment which is marking its 25th anniversary in 2020. Last year, he spent more than 180 days outside Canada, filming across China, Ukraine, Portugal and the U.S for two films now in post production including Balancing Act, which follows acrobats around the world as they prepare for Cirque du Soleil's first permanent show in China. In January, his team smuggled a camera into the epicentre of the coronavirus to produce the undercover documentary Inside Wuhan which premiered on CTV's W5 in March, generating more than one million viewers. He is now remotely directing the international documentary TruckHERS, following women truckers around the world currently filming in Australia, Canada, UK, Russia and Kenya. Join us as Janice gets the inside perspective from Craig about getting creative during challenging times and the way forward for documentary filmmaking.
Moderator:
Janice Zolf Before winning prizes and international acclaim with her documentaries on art, music, and design; film director and writer Janice Zolf worked as an arts and entertainment reporter and producer for CTV News. Her award-winning films have screened on CBC's Documentary Channel, Air Canada, and toured festivals around the world. Her current documentary film Into the Light, about the immersive projections that reimagine history on the walls of Old Montreal, will appear on CBC and GEM in October 2020. Janice's other films include Michael Bublé: Audacious, a Governor General's Awards film, profiling the artist behind the superstar and Revealing Marie Saint Pierre, about the influence of artist Jean-Paul Riopelle on a renowned Canadian fashion designer. Janice holds a Master's of Digital Experience and Innovation from the University of Waterloo.
Expert:
Craig Thompson - President and Executive Producer, Ballinran Entertainment. Craig has 25 years' experience in content creation, production and management, and more than a decade as a working journalist (CBC, CBC Radio (England), CTV). Specialties: Film and television production management, event management, financing, strategic and business consulting in the media industry. Founder, DocFest Stratford and No Boundaries. Author, acclaimed public speaker, and experienced educator, committed to inspiring the next generation of media professionals. Recent feature documentary credits: Game Changers (2017), The Truth is in the Stars (2017), Mostly Sunny (2016) Chaos on the Bridge (2014).
This is how I can help.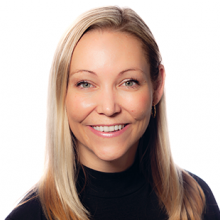 Ashley Conyngham
Director, Marketing and Communications
This is how i can help