Dates
Witness regional talent pitch their unique film concepts to a panel of working professionals who will then test the artistic and marketing value of each pitch before choosing a winner. It's the DRAGONS DEN of filmmaking! Prizes for the Best Short Concept Pitch Totalling $12,000 are waiting to be won! This event is a pay-what-you-can to watch, and $30 to pitch your idea. If you are a filmmaker looking to pitch, learn more and register now.
If you are a filmmaker looking to register to pitch your film then please go to this form to register for free (You pay if you are selected): https://forms.gle/uebaFgkWS9MMmZiG8
Moderator:
Jordan Morris is an award-winning producer and director of films like Nintendo Quest and FCFF Best Documentary winner, Missing Mom. He has also worked on numerous films as an actor, production designer, art director and screenwriter. Since 2013, Jordan has been creating and hosting popular seminars and workshops on the nebulous art and science of writing screenplays.
Judges:
Greg Jeffs - An NSI Features First alumni, has written and produced short films that have been broadcast, released theatrically and are available on iTunes. His short film, THE HUNT, was named the best short film of 2013 by RUE MORGUE MAGAZINE. His directorial debut, IT'S ALL IN YOUR HEAD premiered at the 2016 Horror Channel Fright Fest and continues to tour the worldwide festival circuit. Through his work with William F. White he helps new talent learn the industry procedures and develop a plan for their project that will help maximize the results.
Kirk Cooper is the founder of Film Market Access, a film consulting and PR firm. Kirk's contribution to the international film community spans over 17 years with experience in the global arts and the entertainment industry. His strength lies in Film Programming, Communications, Professional Development, and Project Management for Film. Kirk has created film programming for festivals such as - Durham Region International Film Festival, Victoria International Film Festival, ReelWorld Film Festival, Inside Out (LGBT) Film Festival, Planet In Focus, Canadian Film Festival, River to River, Pan Africa Film Festival. Kirk is currently the Festival Manager for Raven Banner Entertainment - a genre distributor in Canada.
Paige Murray has worked at the CBC for over eight years within the content areas and is currently the Development Manager, Comedy and Drama for CBC English Television. As the key point of contact for comedy and drama submissions, Paige actively looks for new talent and projects and evaluates series pitches to fulfill CBC's programming needs. Paige is also the programmer for Canadian Reflections, the longest-running Canadian short film showcase on national broadcast television. Paige currently sits as Vice Chair of the Breakthroughs Film Festival Board. Breakthroughs is the only festival in Canada devoted exclusively to showcasing short films made by emerging women, trans and non-binary directors.
Courtney McAllister is a passionate, dedicated and innovative writer/producer.
In 2020, Courtney wrote Inn for Christmas, starring Jonna Walsh and Jesse Hutch, which will be available to watch this coming Christmas season. She is also currently working on a slate of MOW films that have been sold and are scheduled to shoot when production resumes in a post-Covid world.
Over the past four years, she has helped both emerging and established filmmakers develop and package their scripts. Most recently, she has found and optioned a script that has since sold to Blumhouse and Amazon. Of the hundreds of screenplays she's read and provided notes for, she has proudly seen 15+ greenlit projects go to camera— selling well internationally afterwards. And though her background is in writing, in the spring/summer of 2018, Courtney produced the critically acclaimed documentary series Street Spirits for Bell Canada.
While earning her Master's Degree in Media Production in 2016, Courtney managed the production on Night Owl, a web-series that premiered at SXSW Film Festival in March, 2018.
Carolyn McMaster is a Canadian film producer and president of CHAOS a film company which focusses on scripted content for the international marketplace. Her most recent production is the horror film Don't Say Its Name. Previous work includes the CIFF Audience Choice Award winner Root of the Problem with Sergio Di Zio and Claire Rankin, the sci-fi thriller Parallel Minds, starring Greg Bryk and Tommie Amber Pirie, the 2016 romantic comedy Chokeslam starring Chris Marquette and Amanda Crew with wrestling icon Mick Foley. In 2013 the thriller Ferocious, Amanda Crew and Kim Coates was released. Walk All Over Me starring Leelee Sobieski and Tricia Helfer premiered at the Toronto International Film Festival in 2008.
McMaster is also an alumna of the Canadian Film Centre Comedy Lab and the NSI, she is a member of the Producers Guild of America, CMPA, Academy of Canadian Cinema & Television and is a recipient of an EMMY award.
This is how I can help.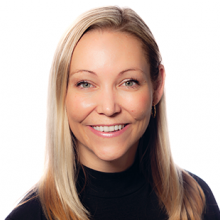 Ashley Conyngham
Director, Marketing and Communications
This is how i can help