Dates
The London Economic Development Corporation (LEDC) is pleased to host Key HR Trends impacting overall HR effectiveness for 2021 with McLean and Company on Tuesday, February 2 from 8-9am.
Following a very brief overview of useful LEDC resources to assist your enterprise attract talent, we are pleased to share the following webinar at no cost, designed specifically for HR leaders.
Throughout 2020, HR functions have been remarkably resilient in the face of enormous disruption to operating environments. The pandemic, a renewed focus on diversity, equity, and inclusion in the workplace, and more have caused many organizations to revisit the way they work and operate.
To help review, adjust, and implement strategies for the year ahead, McLean & Company will share its 2021 HR Trends Report key findings and its implications
What you'll learn:
Which major HR Trends are shaping the evolution of HR in 2021
What HR practices and trends have the biggest impact on overall HR effectiveness.
Information from McLean & Company's HR Trends report to inform your HR strategic plan.
Mclean and Company is a leading HR research and advisory firm providing practical solutions to human resources challenges via executable research, tools, diagnostics, and advisory services that have a clear and measurable impact on your business (https://hr.mcleanco.com/). Originating from Canada's London, McLean and Company now have offices in Toronto, Las Vegas, and Sydney, NSW assisting its 30,000 members globally.
Don't miss your chance to join us and hear how McLean & Company views the evolution of HR in 2021.
After registering, you will receive a confirmation email containing information about joining the webinar.
This is how I can help.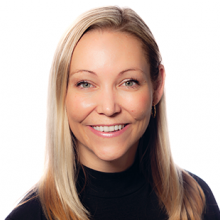 Ashley Conyngham
Director, Marketing and Communications
I can share your local business news & events
Promote your tech or manufacturing jobs
Collaborate with you on your industry event
Help your business reach new audiences
Provide communications support for your SME
This is how i can help