Dates
Register now for the London & Area Works Job Fair on Sept 20, 2022!  This major regional event is currently planned for in-person at White Oaks Mall. 
At the London and Area Works Job Fair, you will be able to meet in person with top local talent. We invite you to promote your organization and the opportunities you have available!
Who should Attend:
Employers with open positions are invited to share their opportunities with regional talent.
Employment Agencies that advise, prepare and train jobseekers to access jobs and develop in demand skills. 
Register now to ensure your spot!
*Over 1100 jobseekers have attended past in person London and Area Works Job Fairs*
Image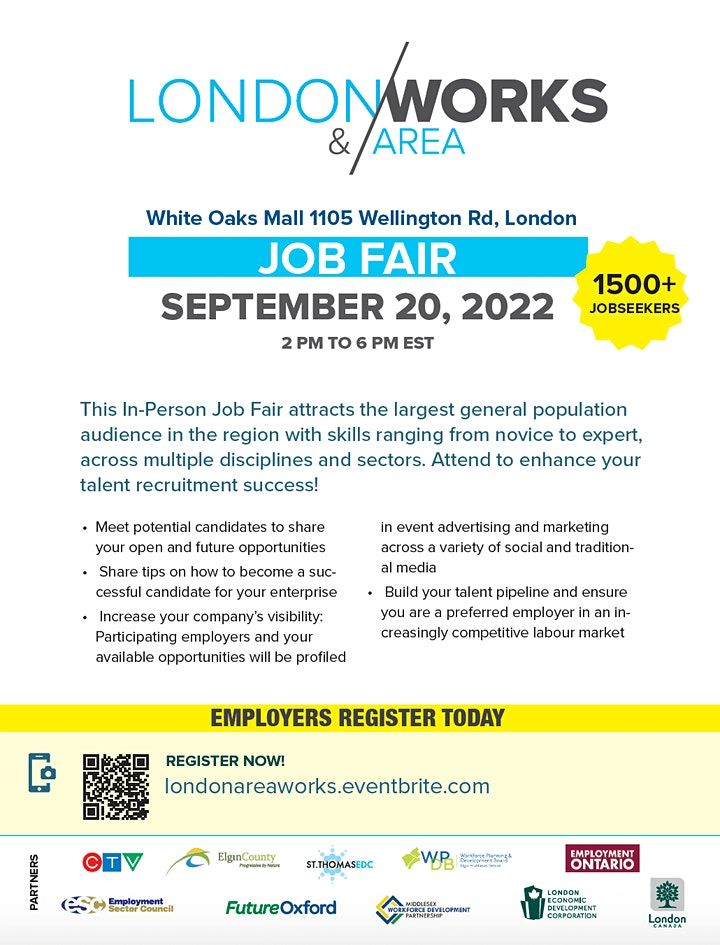 Note: The in-person format of the London and Area Works Job Fair is subject to change given recommendations from the local and federal health authorities.
Jobseekers - Why Attend?
At the London and Area Works Job Fair, you will be able to meet with top local employers in person!
Nothing replaces connecting with companies directly to make a great impression
Speak directly with company representatives
Learn more about employers beyond the information on their website
Extra value for registering in advance:
receive a list of companies and jobs that are available before the event
receive details about free preparation workshops leading up to the job fair
Learn about all of the upcoming events.
Sign up for the LEDC Newsletter by clicking here
Please be advised that photographs and video may be taken at LEDC events for use on LEDC web, print and social properties. We won't sell your photo, but we may share it with media and/or partner organizations. By attending this and any LEDC event, you consent to being photographed and/or filmed, and to your image or likeness being used at LEDC's discretion.