Dates
When we come together in community, collaboration and partnership, unitedly we contribute to a world where we embrace equity, challenge gender stereotypes, draw attention to bias, and seek inclusion. Each of us can actively support strides towards equity within our spheres of influence and join the movement for collective activism to drive change. Together we can #EmbraceEquity.
On March 8, Women in Communications and Technology, TechAlliance of Southwestern Ontario, London Economic Development Corporation and The London Chamber of Commerce present, Smashing Barriers - Fostering the Entrepreneurial Mindset. Gather as a community, to share time and create space for change with Erin Bury, Co-Founder and CEO of Willful, a tech expert and startup fanatic, as she narrates her lived experience as an innovator, empowering women and girls everywhere. Converge in celebration of all who identify as women, as we talk about an achieving mindset, the power of empathy, while saluting the collective experience of work for women everywhere.
When we lead with empathy and prioritize equity, we make impactful strides towards diversity and inclusion. By marking International Women's Day, we recognize the triumphs, celebrate the power, acknowledge the systemic challenges and plan for strategic change, and we revere all women everywhere.
Keynote begins at 4:45 p.m. Cash bar. Complimentary hors d'oeuvres.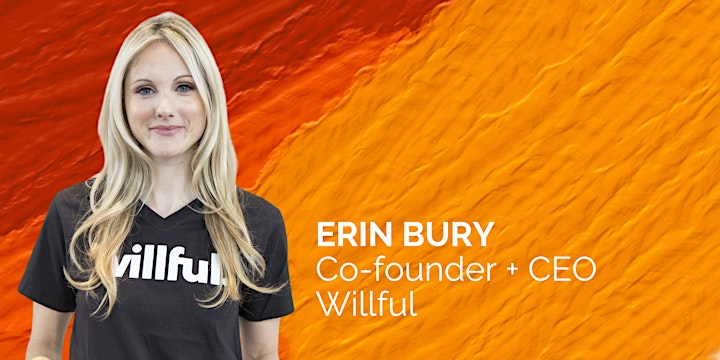 Erin Bury Co-Founder and CEO, Willful | Tech Expert | Startup Fanatic
Named one of Bay Street Bull's "2021 Women of the Year", Erin Bury is one of Canada's top female entrepreneurs as the co-founder and CEO at Willful. She is also a startup advisor and former marketer and technology journalist. Bury shows audiences how to apply entrepreneurial skills to a business of any size, leverage digital trends for business success, and create killer hybrid work cultures.
At Willful, an online estate planning platform, Bury drives the company's mission to make it easier for Canadians to prepare for and deal with death in a digital age. She recently went head-to-head with CBC's Dragons, securing a deal for her company in season 16 of Dragons' Den. Willful was also named one of Bay Street Bull's "Power 50" companies in 2021.
Prior to Willful, Bury spent six years as managing director of boutique marketing agency, Eighty-Eight, where she worked with big brands including Sony Pictures Television, Telus, and PayPal, as well as countless startups. Before joining Eighty-Eight, Bury was a tech journalist at startup publication BetaKit, and the director of communications at Sprouter, which was acquired by one of Canada's largest media companies.
A journalism graduate, Bury is a former Financial Post columnist and CTV News tech commentator. She has also written for publications such as The Globe and Mail and TechCrunch, and comments frequently in the media on marketing and entrepreneurship. She has been featured in The New York Times, Forbes, CBC, Toronto Star, and Inc. Magazine, and was named one of Marketing Magazine's "Top 30 Under 30".