Students can begin working as early as Monday January 2nd and continue until the end of April.
Degree, Graduate Certificate, Advanced Diploma and Diploma students are available.
Easily Post or Re-Post a Job
For tips on creating a job posting, see Your Next Great Hire Starts with a Great Job Posting (PDF).
Conestoga College offers 72 co-op programs in a variety of disciplines. Our Employer Relations team is ready to assist you in selecting the most appropriate program, determining an appropriate wage, scheduling job interviews, and presenting co-op offers.
New Co-op Programs
Conestoga has launched the following new co-op programs for 2022. Students will be available for co-op work terms in future semesters - with some in spring 2023. See the Co-op Recruitment webpage for the most current availability and program information.
Applied Research (Graduate Certificate)
Bachelor of Commerce (Honours) - Financial Services
Bachelor of Engineering - Cyber Systems Engineering
Carpentry and Renovation Technician (Diploma)
Digital Solutions Management (Graduate Certificate)
Image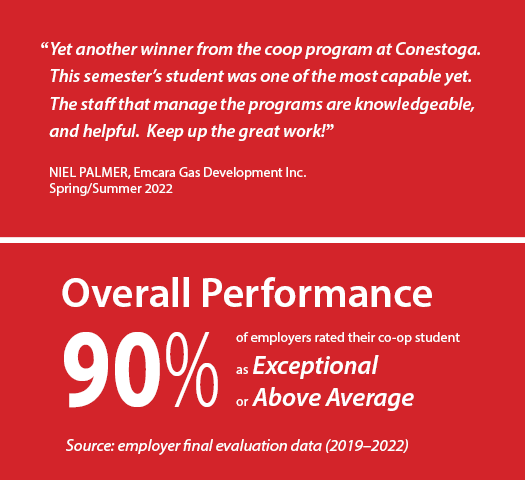 Certificates of Insurance
Employer organizations are now requested to submit a Certificate of Insurance for Commercial General Liability coverage for verification purposes. Each workplace and coverage situation is reviewed on a case-by-case basis. Our Employer Relations team is available to discuss this further. Please reach out with any questions: mycareer@conestogac.on.ca.
Financial Incentives
Ontario Co-operative Education Tax Credit
Ontario employers may qualify for the Ontario Co-operative Education Tax Credit of up to $3,000 per student.
Student Work Placement Program (SWPP) Funding
The federal SWPP program has been approved for continuation until 2024 - with approved funding covering up to 50% of student wages. Hiring students from under-represented groups may qualify for wage subsidies of up to 70%. Determination is on a case-by-case basis by SWPP delivery partners.
For more information, see the Financial Incentives webpage and be sure to monitor for important spring SWPP updates, how to access, and amount of funding available.
Students are still available for the fall work term
Contact us today to fill your immediate needs - last day to post jobs will be Friday, September 16. To meet the minimum requirements students must be hired and started work no later than Monday, September 26.
 
Co-op Student Availability - Winter 2023:
Click on the ink below for detailed program information including student capabilities:
Posting Timeline
Conestoga College facilitates recruitment on an ongoing basis - postings are accepted beginning four months before the start of a term until all students have secured employment (provided the minimum 12 consecutive weeks of full-time work (420 hours) is met).
The final date to secure a student for the winter work term is Friday, January 27th.