London, ON - 299 residential properties exchanged hands last month in the jurisdiction of the London and St. Thomas Association of REALTORS® (LSTAR), bringing the total number of homes sold through the Association's Multiple Listing Service® (MLS®) System in 2022 to 7,639.
"The last month of 2022 was the December with the lowest number of home sales recorded by LSTAR in the last decade. And, overall, 2022 saw the second lowest number of home sales since 2012," said Randy Pawlowski, 2022 LSTAR President. "No one could have predicted that at the beginning of the year when the local housing market peaked, fueled by the lingering pandemic and its socio-economic effects. Once the economy started to get back on track and the Bank of Canada began increasing its benchmark rate, the dynamics of the local housing market changed drastically. One could say that, for LSTAR Members, 2022 came in as a roaring lion and went out like a lamb," he added.
While residential transactions were at their second-lowest point in the last decade, the number of new listings climbed to 14,126 - the second-highest yearly total during the same time frame. This brought the number of months of inventory to 3.8 as of December 31st.
"December's sales-to-new listings ratio sat at 74.6, which shows that housing demand is still high in our area," Pawlowski observed. "With the increased levels of inventory, local Buyers have now more choices and time to shop for new homes. However, the considerable loss of affordability triggered by the successive interest rate hikes continues to challenge local Buyers. And on the supply side, many homeowners are reluctant to list their properties, given the recent drops in average and HPI benchmark prices," he noted.
Compared to a year ago, LSTAR's average home price decreased, but remained higher than the figures seen in 2020 and before. Year-to-date, the overall average price of LSTAR sat at $724,583. In December, LSTAR's overall average home price was $612,770, 14% lower than a year ago, but 10.5% higher than in December 2020. Similarly, the composite MLS® Home Price Index (HPI) Benchmark Price was $566,600 last month, 15.1% down from last year, but 17.1% higher than in December 2020.
The following table shows how December's average home prices in LSTAR's main regions compare to the benchmark prices for the same areas.

All housing types recorded year-over-year decreases in both their average and HPI benchmark prices. "When investing in real estate, it's essential to take a long-term approach. The fast home equity gains seen over the last two years were not sustainable. But, if you have owned your property for a longer period of time, your equity has increased considerably and can offset the latest price corrections," Pawlowski explained.
The following table shows the December benchmark prices for all housing types in LSTAR's jurisdiction and how they compare with the values from the previous year.

"When compared to other values recorded provincially and nationally, the homes in our area are reasonably priced," Pawlowski said. The following chart shows HPI benchmark prices for December, courtesy of CREA.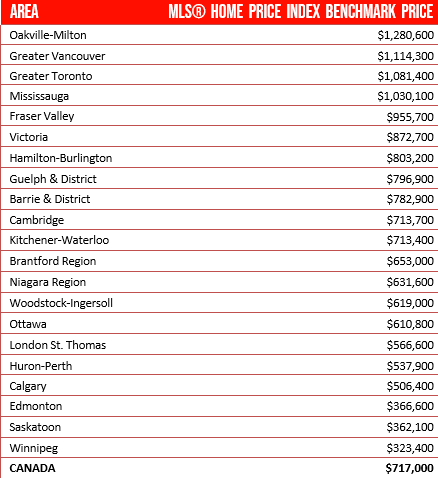 According to a research report1 by Altus Group, a total of $73,250 in ancillary expenditures is generated by the average housing transaction in Ontario over a period of three years from the date of purchase.
"This means that LSTAR Members' 2022 home sales could potentially bring over $559 million in spin-off spending to the local economy by the end of 2024," Pawlowski said.
"As REALTORS®, we don't have a crystal ball. We cannot accurately predict what will happen this year in the local housing market. However, we do have the expertise, experience and, more importantly, the data to help potential home buyers and sellers make the best decisions," Pawlowski concluded.
The London and St. Thomas Association of REALTORS® (LSTAR) exists to provide its REALTOR® Members with the support and tools they need to succeed in their profession. As one of Canada's largest real estate associations, LSTAR serves and represents over 2,250 REALTORS® who are working in Middlesex and Elgin Counties, a trading area of more than 500,000 residents. LSTAR adheres to a 'Quality of Life' philosophy, supporting growth that fosters economic vitality, and is a proud participant in the REALTORS Care® Foundation's Every REALTOR™ Campaign. LSTAR provides housing opportunities, respects the environment, and builds good communities and safe neighbourhoods.
1Economic Impacts of MLS® Systems Home Sales and Purchases in Canada and the Provinces, Altus Group, 2019