Image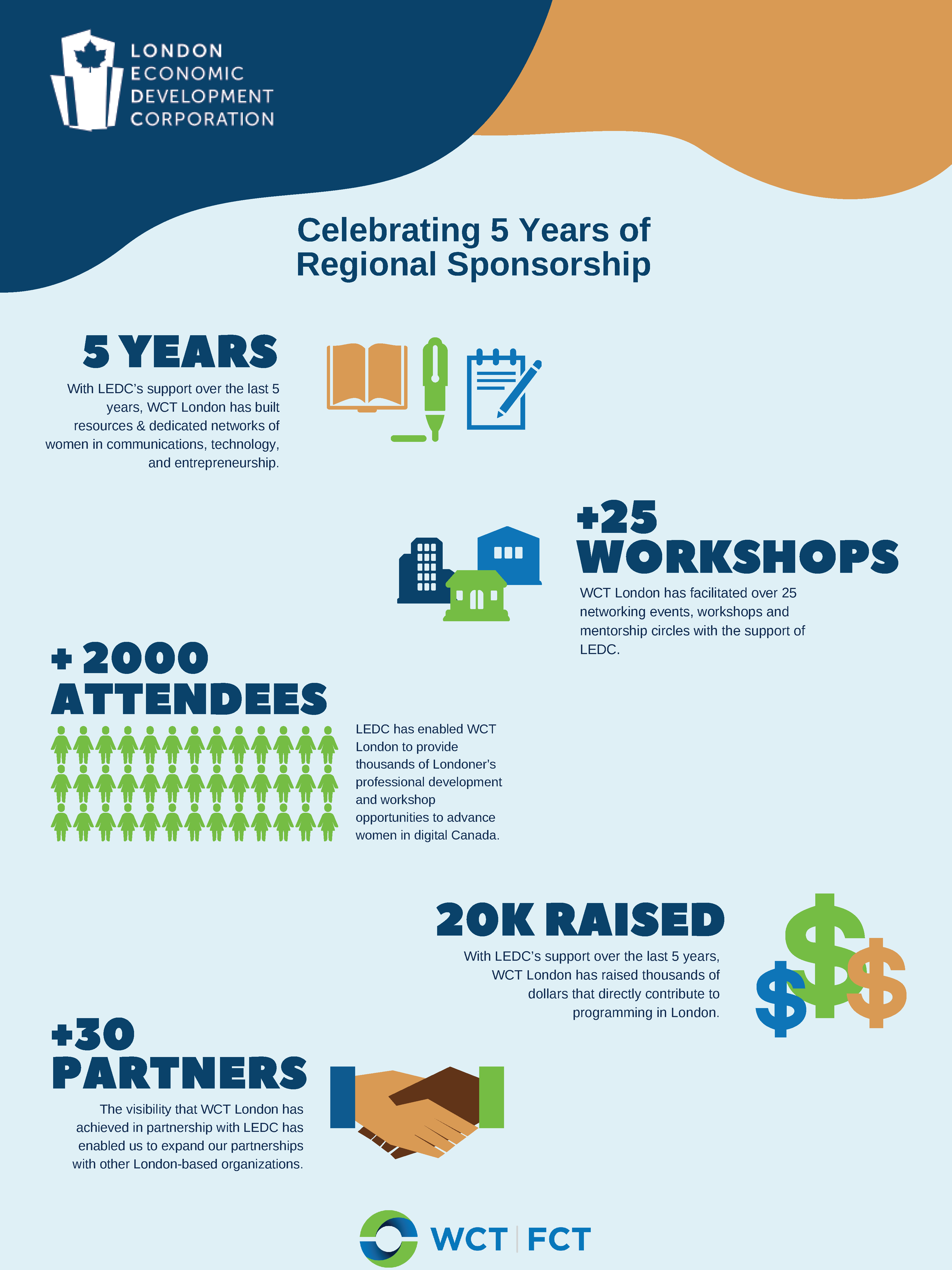 LONDON, ON — Focused on empowering women to thrive in Canada's digital economy, Women in Communications and Technology (WCT) has become a cornerstone for professional, skills, and career development in an ever-evolving business landscape.
The national organization's London chapter (WCT London) has been fortunate to have London Economic Development Corporation (LEDC)'s support as Regional Sponsor for the past five years. Aligned in their missions to create an inclusive business community prepared to nurture and advance women in the workforce, WCT London takes pride in the results of these collective efforts.
"We know that diversity provides deeper insights and creates an environment of innovation, creativity, and growth," said Kapil Lakhotia, President & CEO, London Economic Development Corporation. "Seeing the real impact our partnership with WCT has had is extremely rewarding"
Today, the partners remain committed to the advancement of London's communications and technology sectors by creating experiences, educational opportunities, and dedicated networks of women in communications, technology, and entrepreneurship that contribute to our economic prosperity.
WCT London is proud to announce the impact of this partnership on talent in the region. With LEDC's support over five years, we have:
Hosted 25 networking experiences, ranging from large-scale conferences to intimate opportunities for women to forge vital professional relationships.
Welcomed 2,000 event attendees, to learn from a diverse range of industry leaders and leverage the potential within a community of like-minded women.
Raised $20,000 in funds, with the initial support of LEDC's sponsorship, WCT London Chapter has been successful in building new relationships with London organizations, resulting in over $20,000 raised going directly back to WCT programming
As southwestern Ontario prioritizes economic recovery, WCT London and LEDC recognize that this will rely heavily on the readiness of workforce talent to contribute, innovate, and lead.
The impact of the COVID-19 pandemic on women throughout Canada has been significant — from massive losses of women in the workforce, to growing concerns over mental health and physical safety. It is imperative that programs like these exist, and adapt to suit new needs.
Currently, WCT London is focused on poising emerging and transitioning professionals for growth and success through the launch of an executive panel. WCT London, in partnership with FEMME presents an executive panel to discuss how to leverage strategic alliances and foster relationships to support your career path. Those interested in learning from industry experts and leaders are encouraged to register at https://bit.ly/3cel3u6
- 30 -
Women in Communications and Technology (WCT)
Women in Communications & Technology is committed to inspiring and championing women as leaders in Canada's digital economy. As the longest-standing national association focusing on the needs of women in communications and technology industries, we help women develop leadership skills and provide mentorship and workshop opportunities to give women the tools they need to achieve their highest career potential.
London Economic Development Corporation (LEDC)
LEDC supports the growth of existing businesses, attracts new businesses to London, and strives to ensure companies have the talent, resources, and business conditions they need to continue scaling. We believe every local employer should have the talent, resources, and support they need to continue growing and investing in London, and that jobseekers should have access to a vast and diverse selection of exciting job opportunities. We do what we do every day to ensure we're helping to create an environment in London where this is possible.
For more information, please contact:
Karah Blandford
Co-Chair, Women in Communications and Technology - London Chapter
(519) 239-4957